Suddenly Al-Amin Asif posted a link at our MSP Facebook group of a Live Training Session on Windows 8 by a Technical Evangelist. That was definitely lucrative. But I was at first having trouble following the link because there were login issues.  But after I dig into it  I found that it is an awesome website for developer community.
http://msl-events.cloudapp.net is a website where you can get live training from Microsoft certified people. It can be on skill building, Microsoft Academy Program or the latest Windows technology (like Windows 8 Store app) … you get the idea. After each sessions, related materials can be downloaded from the site and even more – you can chat directly with the presenter for some time if you have any questions. The live video meeting is conducted using Windows Live Meeting client – which is just 15MB (as of version 2007). You can also join it using the web client which requires you to install Java runtime.
To join in the events, first of all, you need to sign up there obviously. However, for first timers – things might get a bit confusing. So I am going to provide the minimal description here of how to get in one of those events. Being a Microsoft Student Partner (which I am proud of) I provided the necessary information while registering. After registration – you will be in the Lobby Area.
From there, choose one of the Rooms. I picked up MSP Virtual Summit. After clicking on joining – you will now see there are many different activities going on. Here is a image which describes some details about it.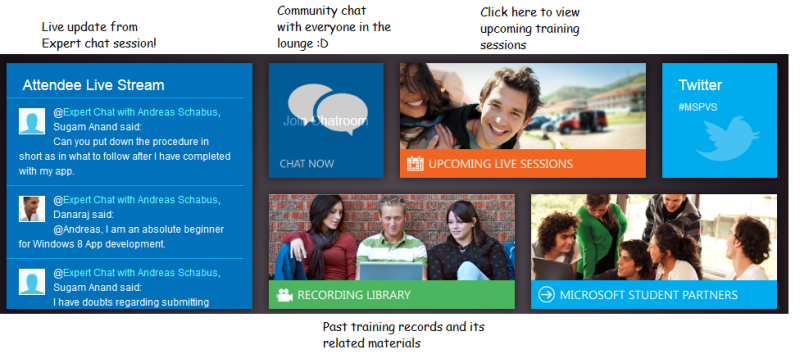 Say – you want to join in a session. Just find one which says playing now and click on Join.

You will be in the session directly using the client you have installed. For firefox, it will ask you to save/open a .rtc file. Just use the open with option with Windows Live Meeting. From there, you will be able to see the live video stream and the audio. Both of them requires around 20KBps speed – so you won't be in much trouble viewing from Bangladesh I hope. In conclusion, MSL-Events is an excellent site for getting acquainted with professionals and getting bleeding edge technology sessions directly from the experts. Question is, are you going to use this excellent opportunity or not.
Opinions, feedback or anything else – please free to share below. I am eager to know your thoughts and opinions.
Links